Xsjado 2.0 Skeleton
Xsjado 2.0 Skates are now available!

Xsjado has created an all new mold for the Xsjado 2.0 featuring some much needed improvements!
For now, the skate is available as a Skeleton only- as pictured to the left.

To make this a complete skate you will need -
Check the price and sizes by clicking here:
Want help configuring your new Xsjado 2.0 Skate?

Call one of our Expert Skaters!
We can help you pick the perfect Footwraps, Frames, Wheels and Bearings for your exact skating style.

We can probably hook you up with a Deal too!
Xsjado 2.0 Footwraps
XSJADO 2.0 Footwraps
Xsjado 2.0 Footwaps are the perfect compliment to the Xsjado 2.0 Skeletons.

Just add
And you'll have a complete Xsjado 2.0 Skate!
Check the price and sizes of the Xsjado 2.0 Footwraps by clicking here:
Custom XSJADO 2.0 Skates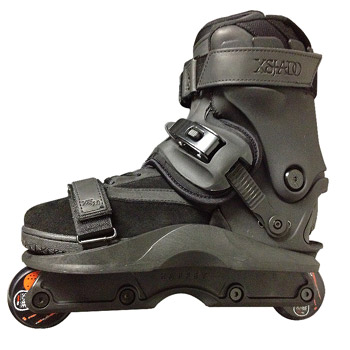 Xsjado 2.0 Custom Skates
Check these sick custom Xsjado 2.0 skates we just built for a customer...
We can build your custom dream skate today. And we'll save you money too! When we build custom skates, we only charge you for the actual parts you get. If you take parts off, we deduct the cost! Hit us up at 1-800-772-2502 for more info...