The Shift boot is a synthesis of the best elements from our most popular models, all combined with new attributes. The shell has a slimmer shape reminiscent of the Cult mixed with the flat soled, bottomless boot concept of the SL. With focus on improving the rider experience, we began reworking our designs and after three years, countless hours of testing, we have developed the Shift. Make no mistake, this completely new shell is different.
Now, we're happy to introduce version 2. If you're looking for a boot with multiple applications, the Shift2 incorporates our IFC – Instant Frame Change - concept. With the sole t-nut hardware removed, you can depress the 2 buttons on the base of the soul, release the slider, and from that point – the soul, frame and wheels – from the boot. Within seconds, you can snap on a fresh setup, all without having to access any of the UFS hardware, and you'll be on your way. With the addition of t-nuts on the inner/negative part of the sole, and new Reign liner, we've created a more stable, comfortable, and reliable skate. Out of the box, the Shift2 is designed to hold up to the serious demands of modern day street skating.
Features:
· Slim Shift boot shell
· (IFC) Instant Frame Changing system
· 1-piece slider/backslide with perfect groove
· Waxed Hockey-Style Laces
· NEW Reign Liner
· Cuff with buckle stash pocket
· Oversized heel pad
· GC FLT 3 frame
· Ground Control Blank 59mm 90a (white urethane/teal core)
· ABEC 9 bearings

Please note, the strap on the back of the liner is for carrying purposes only. Do not use that strap to put the skates on, grab both sides of the liner with your hands & loosen the laces thoroughly. Torn straps will not be covered under warranty.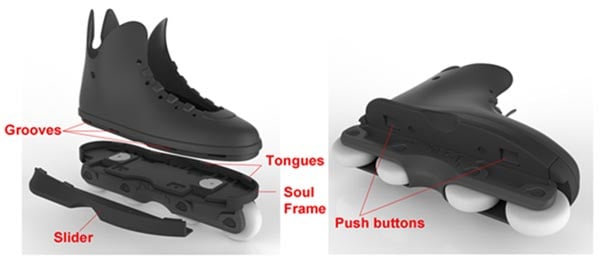 Razors Shift skates come with a patented instant frame changing system which allows the changing of frames and soul frame in seconds. No need to take the frame off the soul, the frame remains attached to the soul using traditional UFS mounts.
Disassembly:
Push the labeled buttons on the underside of the soul frame, using the included allen wrench or other tool for more leverage, and move the slider towards the outside. You can now easily take off the soul and frame.
Assembly:
Align the soul and frame with the boot and firmly push the inside of the soul frame onto the boot. Make sure that all 4 'tongues' are securely locked into the grooves of the boot. Guide the slider onto the outside of the boot and soulframe, tongue to groove, until the both push buttons of the soul frame pop up. Make sure that all 4 tongues are interlocking with the grooves of the boot.