Razors is excited to introduce our new brand LOCA. Designed by and for female skaters, the Loca skate comes with a new V-cut shaped cuff and a new smaller shell (4/5) – tailored for those with smaller feet, but who demand heightened performance. Based on Razors' Shift shell - it comes with the Instant Frame Changing system - allowing an instant switch to free skating or big wheel setups. The Loca features Reign V2 liners, GC FLT3 frames and GC 57mm/90A wheels.
- 4/5 Shift boot in black with mint accent colors
- IFC system (Instant frame changing)
- New cuff with V-cut
- 1-piece sliders
- GC Featherlite 3 frame
- SL Gel heel pad for comfort and impact reduction
- Reign V2 liner with reinforced Lycra lining and eyelets, improved carry strap
- GC 57mm/90A wheels and ABEC 9 Bearings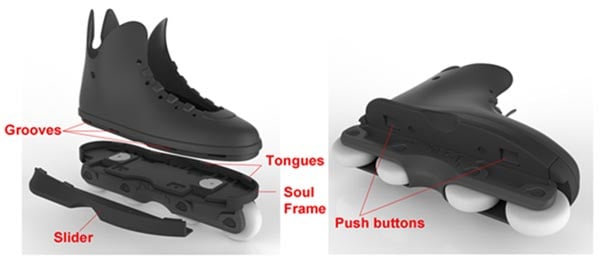 Razors Shift skates come with a patented instant frame changing system which allows the changing of frames and soul frame in seconds. No need to take the frame off the soul, the frame remains attached to the soul using traditional UFS mounts.
Disassembly:
Push the labeled buttons on the underside of the soul frame, using the included allen wrench or other tool for more leverage, and move the slider towards the outside. You can now easily take off the soul and frame.
Assembly:
Align the soul and frame with the boot and firmly push the inside of the soul frame onto the boot. Make sure that all 4 'tongues' are securely locked into the grooves of the boot. Guide the slider onto the outside of the boot and soulframe, tongue to groove, until the both push buttons of the soul frame pop up. Make sure that all 4 tongues are interlocking with the grooves of the boot.